Roasted Potatoes and Asparagus is a delightfully easy and delicious side dish. Enjoy the full flavor spectrum of seasonal produce in this simple, but elegant plant-based recipe.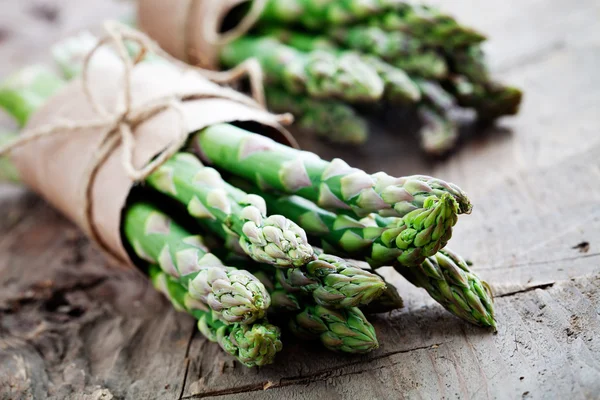 If you're looking for easy side dishes with potatoes, this recipe for roasted potatoes and asparagus makes the most of two popular vegetables. Creamy red potatoes balance out the crispness of fresh asparagus.
With just a few simple ingredients, you have a heaping platter of vegetables to feed up to 8 people. It's a fantastic vegetarian side dish to serve any time of the year. When weather permits, it's fun to include at outdoor parties.
How to Make Roasted Potatoes and Asparagus
While both vegetables can be roasted, for this recipe I like to roast the potatoes and quickly blanch the asparagus. This way, the potatoes get those lovely crisped edges that everyone loves. And the asparagus maintains its crisp-tender texture and bright green color.
Once my potatoes are nicely charred in a 400°F oven and my asparagus are out of their hot water bath, I drizzle everything with a sweet balsamic vinegar glaze. I also like to add a bit of sea vegetable powder if I have it on hand, but that's optional.
That's it: all you need for a well-balanced, vibrant, and crowd-pleasing plant-based side dish brimming with seasonal produce.
How to Season Roasted Potatoes and Asparagus
Sea Salt
I always use Redmond Sea Salt these days. It adds minerals and trace minerals to any recipe, and brings forth the natural flavors of the roasted potatoes and asparagus. Redmond is offering special savings for the Natural Kitchen community, so you can save 15% by using the code "NaturalKitchen" when you check out.
Balsamic Glaze
You can make this yourself using a recipe like this, or you can take a shortcut like I did and use one that's pre-made. It's organic too! It does contain a little sugar, so if you want to avoid that here is a no-sugar and non-GMO variety. Or you can also make it yourself by just cooking down and reducing pure balsamic vinegar.
Onion Powder and Garlic Powder
These two seasonings are a culinary super power together. They just add so much "oomph" to any dish, and it's easier than chopping up loads of fresh garlic. Feel free to use them liberally in this recipe! I always prefer to use the organic onion powder and garlic powder.
Sea Vegetable Powder
If you aren't familiar with sea vegetable powder, it probably sounds like a strange, and maybe not too appetizing, ingredient in this recipe. However, it's much tastier than it sounds!
Sea vegetable powder is a blend of different varieties of dried seaweed. Seaweed is packed with essential vitamins and minerals that contribute to a healthy diet. So a sprinkle of sea vegetable powder is an easy way to boost the nutritional content of this side dish, or really any savory recipe.
The powder is subtly salty with plenty of umami. Think about the flavor of nori in sushi--it's one of my favorite parts of a sushi roll!
You can find sea vegetable powder like this
dulse shaker
at most health food stores, as well as online.
If you do give it a try on your roasted potatoes and asparagus, you might find yourself dusting everything with sea vegetable powder!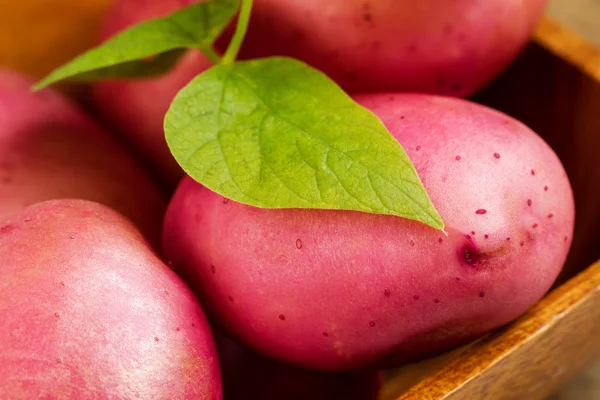 What Kind of Potato Is Best To Make Roasted Potatoes with Asparagus?
I love using tender red potatoes for this dish. They're small, so they're easy to cut into quarters for roasting. Plus, they're thin-skinned with a creamy interior texture.
Red potatoes aren't too starchy, so they cook up quickly and get a delicious crispy char on them in the oven.
If you can't find red potatoes, another small potato variety, such as new potatoes or fingerlings, would also work for this recipe. In fact, I love the little heirloom varieties of potatoes like purple potatoes. Dr. Axe has a great article about the health benefits of
these antioxidant-packed potatoes
.
What To Serve With Roasted Asparagus and Potatoes?
This is such a simple recipe that it goes with nearly any entree. I love to present a bit platter of roasted potatoes and asparagus at a summer get-together. That means that I usually serve this side dish with your typical grilling fare.
Here are some of my favorite meals to pair with this plant-based side dish:
For summer meals,

Corn on the Cob

always goes great with this recipe
Our

hearty Lentil Loaf

is a satisfying vegan entree that goes well with Roasted Potatoes and Asparagus
What's one of your favorite way to prepare potatoes or asparagus?
I hope you found this article useful in learning how to make roasted potatoes and asparagus taste AH-mazing. And if you're looking for more ideas and inspiration about cooking all types of vegetables, I know you will love our free Power of Veggies Mini Course. You can check it out HERE.
Print
Roasted Potatoes and Asparagus
---
---
Instructions
Preheat the oven to 400 degrees F.
Clean and remove the eyes on the potatoes, keeping the skins on. Remove any bad spots. Chop into bite size pieces.
Remove the bottom 2-3 inches off the ends of the asparagus.
Spread the potatoes on a baking sheet lined with parchment paper. Don't crowd the potatoes. Drizzle with the olive oil. Sprinkle with sea salt and black pepper to taste.
Rub the seasoning into the potatoes and bake for 40 minutes or until fork tender but a little crispy on the outside.
Boil a few inches of water in a pot. Once boiling, add the asparagus and a pinch of salt for 3 to 5 minutes, or just until tender but still bright green. (Don't overcook!) Remove the asparagus and rinse with cold water. Drizzle the cooked asparagus with some olive oil, and add a little sea salt and pepper to taste.
Drizzle the balsamic glaze over the asparagus and potatoes. Gently toss until evenly coated. Enjoy!
Like this post? Want to share the article? Pin it to your favorite Pinterest boards!